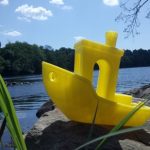 Not long ago 3DBenchy reached a milstone of 100.000 downloads on Thingiverse. That number is now up to 500.000 which is crazy. It´s great to see that the model we at Creative Tools initially created for internal testing purposes 3 years ago is now used to help 3D printing enthusiasts all over the world to troubleshoot and tune 3D printers or just use as a allround fun print. These days there is a great chance that you will spot a 3DBenchy if your are attending a event or trade fair involving 3D printing or perhaps even in a friends "print cave".
The community have really made good use of this simple 3D model and the Facebook group created with the single purpose of allowing community members helping each other to get the most out of their 3D printers is growing everyday.
Big thanks to the community for all the love!